Linear RIB installation – ceiling | fully demountable
The Capax installation system for Linear RIB is a user friendly aluminum grid, offering installation reliability and a perfect visual result. No tools are needed to assemble the interlocking components. A demountable version is available, ideal when access to the ancillary systems is required.
FULLY DEMOUNTABLE
Details & instructions
1. Nonius-hanger
2. Nonius-CD
3. Nonius-lock
4. Base-CD
5. U-FIX CD
6. U-FIX CDC
7. Capax 3262
8. Capax 3263
9. Acoustex 15 Black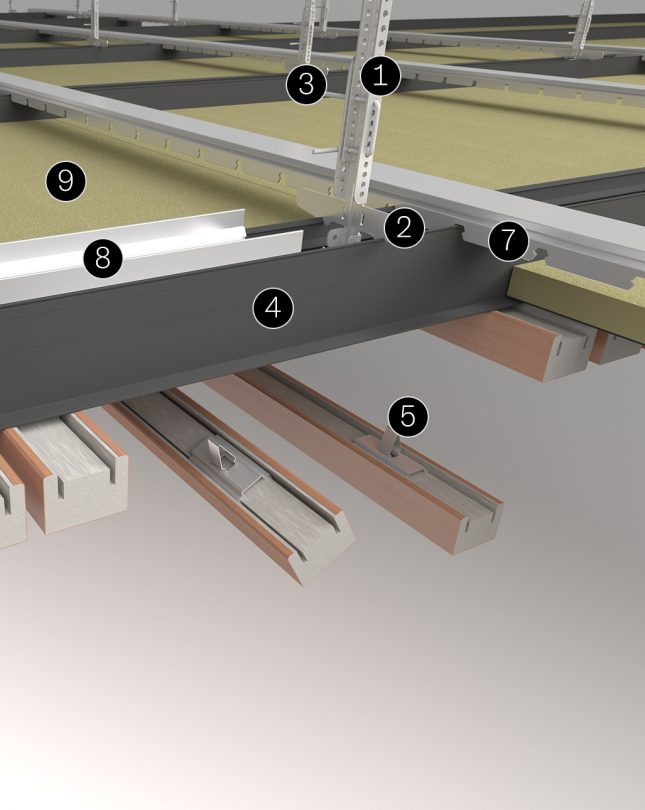 Suspend the Capax profiles BASE-CD (4) with 600 mm in between them. If needed, connect in-line with 3263 (8) The connection of BASE-CD to the ceiling has to be made every 600 mm.
Use the adapter NONIUS-CD (2) to connect the BASE-CD (4) profile with positions (10) to other NONIUS components.
Snap the distance Capax 3262 (7) to the BASE-CD profile every 1200 mm.
Install Acoustex-15 (9) onto the "T" section of the BASE-CD.
Attach the U-FIX-CD (5) clips to the back side of the linear ribs using tool M-BLOCK-CD.
Attach the ribs to the carrier BASE-CD by clicking the spring-clips in the rectangular holes in the CEILING-CD profile.
Customised installations
These instructions refer to our standard installation. For other solutions such as curved ceilings, closures and door liners, contact our support.
CONTACT SUPPORT
DEMOUNTING & REMOUNTING
For easy access to the ancillary systems the ribs can be demounted and remounted over and over again, without the need of any tooling. The extra large fixation holes make the re-entering process as easy and quick as the first installation.
Re-installing multiple times
The system is designed for unlimited re-installations over it's full life time. This is assured by the design and the materials chosen for the parts providing this unique snap mechanism.